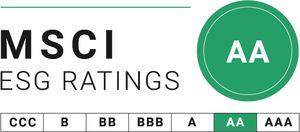 MSCI ESG Research has awarded Deutsche Bahn AG an "AA" rating.
In the ESG rating by MSCI, Deutsche Bahn Group (DB Group) received the ESG rating "AA". This rating places the group in a good position in the top 40% of the "Road & Rail Transport" sector. Only 7 % of companies received the top "AAA" rating in the "Road & Rail Transport" sector. MSCI has been assessing DB Group since 2013.
MSCI ESG Research products and services are designed to provide companies around the world with in-depth research, assessment and analysis of environmental, social and governance-related business practices. ESG ratings, data and analyses are also used in compiling the MSCI ESG indexes. For more than 40 years, MSCI's research-based indexes and analyses have helped investors worldwide build up and manage their portfolios.
DISCLAIMER STATEMENT
THE USE BY DB GROUP OF ANY MSCI ESG RESEARCH LLC OR ITS AFFILIATES ("MSCI") DATA, AND THE USE OF MSCI LOGOS, TRADEMARKS, SERVICE MARKS OR INDEX NAMES HEREIN, DO NOT CONSTITUTE A SPONSORSHIP, ENDORSEMENT, RECOMMENDATION, OR PROMOTION OF DB GROUP BY MSCI. MSCI SERVICES AND DATA ARE THE PROPERTY OF MSCI OR ITS INFORMATION PROVIDERS, AND ARE PROVIDED 'AS-IS' AND WITHOUT WARRANTY. MSCI NAMES AND LOGOS ARE TRADEMARKS OR SERVICE MARKS OF MSCI.