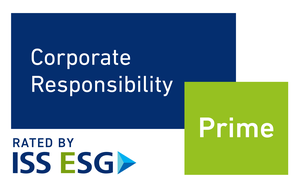 Deutsche Bahn again awarded "Prime" status
The sustainability performance of DB Group was again awarded Prime status by the rating agency ISS ESG in 2018.
The Group achieved a "B-" classification out of 112 evaluated companies, taking first place in the transport and logistics sector with this rating.
Sustainability performance is assessed on the basis of more than 700 individual indicators, of which more than 90 % are industry-specific. The assessment covers the sustainability performance of companies in relation to environmental, social and governance criteria (ESG).
Canadian Railways (B-) and Air France-KLM S.A. (C+) were also rated Prime. Prime status is awarded to companies that are among the leading companies in their sector according to the ISS ESG corporate rating and must also meet the minimum requirements specific to the particular industry.
The rating company oekom research AG merged with Institutional Shareholder Services (ISS) in March 2018. Around 3,800 companies are regularly assessed by ISS ESF as part of a best-in-class rating. A total of about 5,900 issuers are analyzed. Approximately 17 % of companies are currently awarded "Prime" status by ISS ESG.