About us
Deutsche Bahn Group (DB Group) is an international provider of mobility and logistics services operating globally in more than 130 countries. Its headquarters are in Berlin. DB Group has more than 318,000 employees, with almost 40% employed outside Germany. We design and operate the transport networks of the future. By integrating transport and rail infrastructure, as well as through the economically and environmentally intelligent linking of all modes of transport, we move both people and goods.
In passenger transport, we transport about 12.8 million people each day on our trains and buses throughout Europe. In freight transport and logistics, our networks transport over 255 million t of goods per year by rail, and over 106 million shipments by road. Our global networks move more than 1.3 million t of air freight and nearly 2.2 million TEU of ocean freight. At about 33,000 km, our rail network in Germany is Europe's longest. We are also one of Germany's largest energy providers. The main components of our integrated rail system are our passenger transport activities in Germany, our rail freight transport activities, the operating service units and the rail infrastructure companies (RIC).
Deutsche Bahn AG (DB AG) is the parent company of DB Group. It has been a stock corporation under German law since it was founded in 1994 and accordingly has a dual management and control structure comprising a Management Board and a Supervisory Board. It is wholly owned by the Federal Republic of Germany (Federal Government).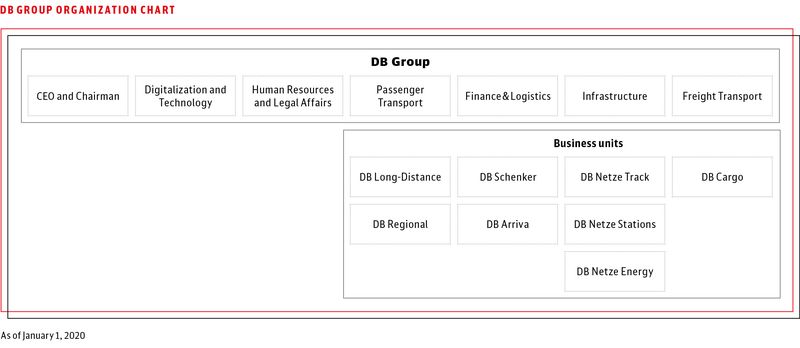 DB Group offers attractive, customer-focused and environmentally friendly mobility, transport and logistics solutions and networks from a single source. We selectively use the possibilities of digital technologies to improve our operational and administrative processes, to continually further develop offers for the customer, to integrate new services, and to simplify the customer interface. Our customers are individuals, business customers and contracting organizations in local and regional transport. The integrated railway system is at the heart of our business activities. In addition, we are gradually expanding our business portfolio in order to meet our customers' needs more effectively and respond to new market demands.
Our passenger transport business activities are broadly diversified. They comprise not only bus and rail transport, but also intelligent linkage with other modes of transport such as the car and bicycle. We offer long distance rail passenger transport within Germany and into neighboring countries. Furthermore, we have regional and local transport operations throughout Europe that enable us to benefit from increasing market potential in the bus and rail transport markets.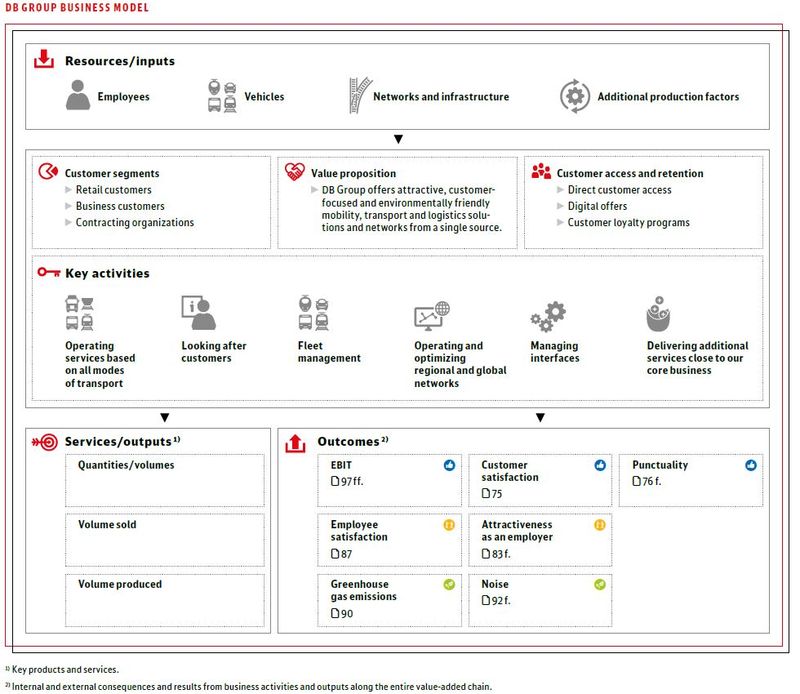 There are five key success factors in the development of DB Group, which are a central component of DB Group's business model:
Entrepreneurial approach to business: In the course of the German rail reform DB Group has established itself as a commercial enterprise. Particularly worth mentioning in this context are the establishment of a modern and efficient organization and a value-based corporate management approach.
Integrated Group: As a system integrator in Germany, DB Group optimizes the integrated rail system. In doing so, it serves as an important driving force for technological innovation. The integrated Group structure enables us to achieve positive synergies and align our infrastructure to support efficiency, market orientation and profitability.
Cross-modal transport solutions: We offer our customers door-to-door mobility and logistics solutions from a single source. We use digital technologies to intelligently link various modes of transport in an economical and environmentally friendly way. In addition, we offer complementary products and services in the freight transport and logistics market.
International direction: Due to our focus on Germany and Europe in passenger transport as well as our European and global orientation in the areas of freight transport and logistics activities, DB Group has an excellent position in the relevant markets. As a result, we are responding to the increasing demand for cross-border solutions. At the same time, we are best positioned to take advantage of growth opportunities.
Digitalization: Digitalization and new technologies are changing the face of our core business. We are harnessing digitalization technologies and methods to offer attractive products to our customers. This means, on the one hand, that we are incorporating new transport offers into our product portfolio, such as on-demand mobility, and establishing new platforms for our customer interfaces. On the other hand, we support our internal processes using such technologies as artificial intelligence. In order to tap into growth potential and provide a modern offer for our customers, we are establishing an innovation ecosystem, consisting of in-house developments, affiliated companies and partnerships.